Baffled Heat Pipes
The PIPCAR Baffled Cool Pipe is the ideal way to cool `stepped` cores. It uses heat pipe technology to cool the small diameter tip of the core and conventional baffle type water cooling over the larger diameter section. Optimum moulded component quality is therefore ensured along with minimum cycle time. Productivity is further enhanced by minimising tool down time resulting from blocked waterways. Tool design and construction are simplified further reducing costs. It is available in all standard Cool Pipe diameters with the overall length, baffle width and baffle length being selected by the toolmaker/designer
Application
Figure 1 shows a typical installation.
In general, the largest possible diameter Cool Pipe (see table 1 for available diameters) and baffle width should be chosen that can be accommodated without unduly weakening the core. The core should be step drilled out to the nominal Cool Pipe/baffle sizes plus 0.1mm. The baffle-cooled section should be drilled deep enough to allow the return water to pass over the top of the baffle. Our Therma-Grease should then be used during installation of the Baffled Cool Pipe to fill the radial gap and improve heat transfer over the Cool Pipe cooled section. It is not normally necessary to anchor the Cool Pipe to prevent rotation although this may be felt desirable.
For further information (including cooling capacities/ cycle time calculations) please either consult the factory and/or see technical bulletin TKN/930614/01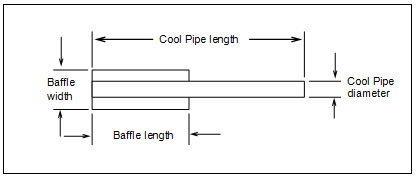 Materials
The Cool Pipe is made from electroless nickel plated high conductivity copper to BS2871 C106 (ISO-CU-DHP) and uses P1000 for its working fluid. The baffle is made from either brass or copper and is again electroless nickel-plated.


Temperature Ranges
Baffled Cool Pipes operates from +5oC to +150oC (Cool Pipe temperature) and are suitable for use with nearly all plastics.
Tolerances
(Cool Pipe and Baffle);
Diameter: +0.00mm/-0.10mm.
Length: +0.00mm/-0.50mm.
Ordering
(See figure 2).
CP1000 B- Cool Pipe diameter x length /baffle width x length.
E.g. CP1000B 4.0 x 125 / 8 x 50.