Annular Heat Pipes
The PIPCAR Annular Cool Pipe is the ideal way to cool cores where central or air ejection is needed. It also allows central venting of the cavity. Optimum moulded component quality is, therefore, assured along with minimum cycle time. Productivity is further enhanced by minimising tool down time resulting from blocked waterways. It simplifies tool design and construction, thereby further reducing costs. It is available in all standard Cool Pipe diameters, each with a choice of inner diameters - see table 1. The required length is simply determined by the toolmaker/designer.


















































Application
Figure 1 shows a typical installation.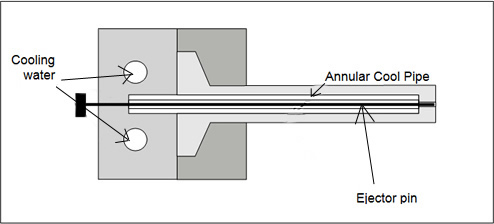 In general, the largest possible diameter Annular Cool Pipe should be chosen that can be accommodated without unduly weakening the core. The core should be drilled out to the nominal Cool Pipe size plus 0.1mm. Our Therma-Grease should then be used during installation of the Cool Pipe to fill the radial gap and improve heat transfer. When using a central ejector pin sufficient clearance MUST be allowed between the inner wall of the Annular Cool Pipe and the pin to guarantee zero contact - the inner wall is not designed as a bearing surface.
Cooling can be either with water directly onto the outer surface or indirectly via the mould plates (as shown in figure 1). The factory can fit direct water jackets when necessary.
For Further information (including cooling methods / capacities / cycle time calculations) please either consult the factory and/or see technical bulletin TKN/930614/01.


Temperature Range
Annular Cool Pipes operate from +5oC to +150oC (Cool Pipe temperature) and are suitable for use with nearly all plastics.
Other temperature ranges can be supplied - please consult the factory.
Materials

Annular Cool Pipes are made from electroless nickel plated high conductivity copper to BS2871 C106 (ISO-CU-DHP). They use P1000 for the working fluid.
Tolerances
Outer diameter: +0.00mm/-0.10mm.
Inner diameter: +0.20mm/-0.10mm
Length: +0.00mm/-0.50mm.
Ordering
CP1000A - outer diameter x length x inner diameter.
E.g. CP1000 A - 6.0 x 125 x 1.8